Home
> Blog > Types of International preschool curriculum in Singapore
Types of International preschool curriculum in Singapore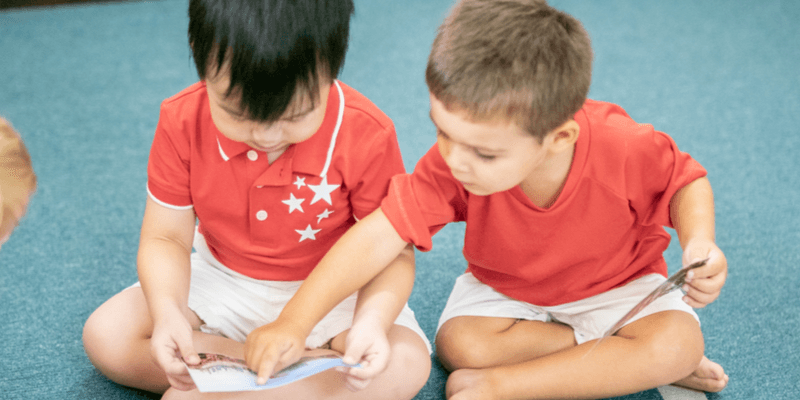 Sep 11, 2019 10:44:23 AM
For any parent wanting to enrol their child in an international preschool in Singapore, knowing the different curriculum options available and their key features will help you make the most informed decision for your child.
Whilst most international preschools are aimed at providing children with quality education and care, the curriculums used to achieve these differ. This blog will explore the main differences between international preschool curriculums in Singapore: The Early Years Foundation Stage, Montessori, Reggio Emilia and Nurturing Early Learners.
EARLY YEARS FOUNDATION STAGE
Also known as EYFS, this is a set of standards for early learning and development aimed at children up to the age of 5. The EYFS is set by the UK government and has been adopted in Singapore. This supports an integrated approach to early learning and provides professionals with a set of principles and commitments to deliver quality experiences to all children. The main characteristics include:
Active learning
Creativity
Critical thinking
Playing and exploring
In terms of assessment, children are reviewed via classroom observation and parents are given a summary of their child's progress at two points. The first is between the ages of 24 and 36 months via the progress check and the last is at end of reception via the EYFS profile. This aims to identify any developmental needs in children at an early stage so any additional support can be provided.
This curriculum is great for: parents and carers who want their children to advance critical thinking and language skills as well as developmental assistance at an early age. The EYFS framework provides assurance that children are given the same statutory commitments and principles no matter which preschool they attend.
MONTESSORI
The main focus of this curriculum is learning through experience. Children are encouraged to take part in activities aligned with their personal interests, limiting the use of specific instructions. This takes a child-led approach to learning where a child is viewed as someone who is capable of initiating learning in a supportive, thoughtfully prepared learning environment. The teachers act as facilitators and offer children the freedom to explore within limits.
Competencies such as language, maths, science and arts are taught in practical ways. This is a very constructivist model of learning where children can explore concepts through specific materials that are instructive and self-correcting. For example, when learning about rivers, there is a mould that looks like a river. Additionally, puzzles and building blocks are used instead textbooks. These teaching methods are based on studies into the natural behaviour of children.
Another key element of the Montessori-style education is the mixed-aged group classes. This creates an atmosphere where children can learn from their peers and a strong sense of community.
This curriculum is great for: parents who want their child to gain a high level of early independence and develop personal interests.
REGGIO EMILIA
The Reggio Emilia curriculum is centred on a socio-cultural approach to learning. Here children are viewed as individuals who are curious about the world around them. This aims at exposing children to educational opportunities that encourage self-expression, communication, logical thinking and problem solving.
The curriculum is based on the particular interests of children. This is derived through regular communication with children and their families as well as observations in team planning sessions to select projects best suited to children in class. As with the Montessori curriculum, teachers take the role as advisors on these projects, helping children to decide how to approach their research.
Collaboration is a key factor in this learning approach. This is seen as pivotal for a child's cognitive development. Children are encouraged to work in groups to solve problems and enhance communication skills.
As with the other curriculums, children are given the opportunity to develop skills based on Howard Gardner's multiple intelligence model, such as verbal-linguistic, logical-mathematical, visual-spatial, logical-mathematical, musical, visual-spatial, body-kinesthetics, interpersonal, intrapersonal and naturalistic. New ideas and concepts are demonstrated in multiple forms such as music, art, drama and shadow play. Children are also encouraged to express their ideas through symbolic languages, such as drawing and sculpture. This supports on the assumption that in early developmental stages, children evolve their own "hundred languages" to express themselves.
This curriculum is great for: parents who would like their children to develop their communication and social skills. Discover their strengths and become a well-rounded individual.
NURTURING EARLY LEARNERS (NEL)
This is a curriculum set by the
Ministry of Education
(MOE) Singapore for children ages 4 to 6 years old, used in local preschools and some church kindergartens. It is linked to the NEL Framework, NEL Educators' Guide, NEL Teaching and Learning Resources and Mother Tongue Languages (MTLs).
This is based on the belief that children are curious, active and competent learners. The integrated approach to learning is facilitated by the teacher using purposeful play as well as quality interactions to enable children to develop holistically.
The main learning areas include: Aesthetics and Creative Expression, Discovery of the World, Language and Literacy, Motor Skills Development, Numeracy, Social and Emotional Development. A key feature of the NEL approach is developing the language and literacy skills of children as well as nurturing bilingualism in young children (this is most commonly English and
Mandarin
). For instance, the NEL Big Books feature stories with a distinctive Singapore flavour, that are linked to children's experiences and everyday lives. This ensures that language learning is relevant for children.
This is great for: Children who are attending a preschool outside their home country. Parents who would like their children to develop holistically, grow language skills and expand confidence at home into a pre-school setting.
SELECTING AN INTERNATIONAL PRESCHOOL CURRICULUM
When selecting an international school, it is important to ask yourself: What do I want my child to gain from their education? Is this an individualised learning approach? Do I want to focus on social development? Do I want a broad or focused skillset for my child? The type of curriculum will have a direct impact on your child's learning experience.
Whilst each international preschool curriculum in Singapore will have its own values and teaching style,
play-based learning
is a common theme, highlighting the benefits this approach brings to children at the development stage.
Thinking of moving to Singapore with young children? Not sure what to expect and how to prepare? Our free guide covers everything you need to know including education and how to select the right preschool, travel and living expenses, family-friendly activities and more. Click the link below to
download the free guide
.