Home
> Blog > Seven fun ways to learn Mandarin with children
Seven fun ways to learn Mandarin with children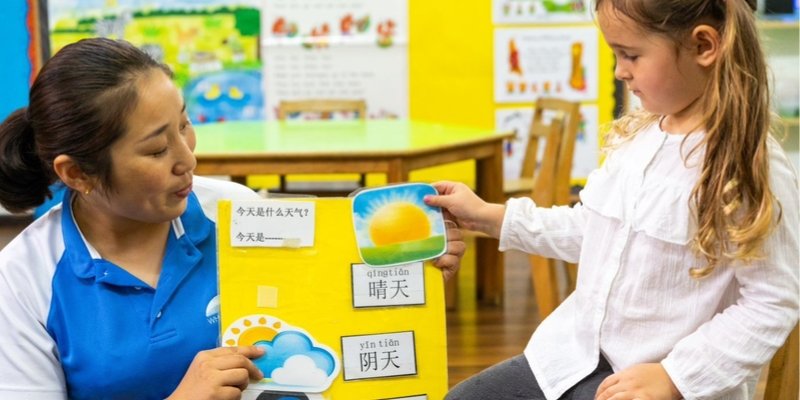 May 14, 2019 12:52:02 PM
Mandarin is one of the most popular languages in the world, with roughly 1 billion speakers. However, learning this can be overwhelming and can often feel like a chore, particularly for young children. At White Lodge, our fun-filled Mandarin programme aims to provide children with maximum exposure to the language, culture and history. Here are some fun and interactive ways to learn Mandarin we encourage at White Lodge.
ROLE PLAYING
Acting out real-life and everyday situations in Mandarin, such as grocery shopping or a telephone conversion, is a great interactive way for children to practice the language, particularly their conversational Mandarin. There are numerous benefits of this: developing communication and social skills, collaboration through learning with others and empathy: by playing the role of another character, your child can develop an understanding of different perspectives.
READING
Getting your child to read popular books they may have already read in their native language is a great way to familiarise them with Mandarin. To avoid overwhelming your child, start with books that have short content, basic vocabulary and simple sentence structures. Audio books are another great way to help. Listening alongside reading can be a powerful way to help your child discover the correct pronunciation of words.
VISUAL AIDS
Research shows that
83% of people learn by seeing
. Visual resources aid the learning process through simplification and memory. They can help elicit positive emotional responses particularly when associated with bright colours and characters. There are numerous ways this can be implemented in a fun way, such as Chinese flashcards with pictures or getting your child to write their name out using Chinese symbols. One of the most popular ways to learn Mandarin amongst children is watching Chinese cartoons and many of these shows, such as Ni Hao Kai-Ian, incorporate a question and answer session.
MUSIC
Music is a great form of self-expression that can help improve pronunciation, memorisation and contextual use of key vocabulary. Another positive aspect about using music to learn Mandarin is that is it portable. Your child can listen on the way to school, whilst playing at home or during a walk. Why not turn this into a fun and interactive challenge by trying out some Mandarin karaoke!
COPY-WRITING/WRITING
For learners who are taking Mandarin as a Second language, writing will be an essential component of the learning process. A nice way to start learning basic writing skills is through a step-by step copy-writing method. Here eye-catching illustrations are used, beginning with easy tracing of Chinese characters, then progressing onto more challenging copy-writing and writing independently.
HAN YU PIN YIN
Also known as 'Pinyin', this is a phonetic system based on the Latin alphabet. It is a great resource to help children taking Mandarin as a Second language grasp the fundamentals of Chinese. Here basic initials, vowels and tone marks are conveyed through simple exercises such as reading the lyrics of songs in Pinyin and using flashcards. The use of visual cues helps to improve phonological awareness and pronunciation.
Parent testimonial: "Shira, a Chinese-American, […] found the Mandarin components of the programme to be fun and engaging; she regularly returned home with new vocabulary and even new songs!"
Check out more parent testimonials
here
.
EXPERIENTIAL LEARNING
One of the most effective ways to learn Mandarin for children is through experiencing the language itself. Experiential learning combines creativity, observation and active interactions and provides the chance to practice speaking Mandarin outside the classroom. Put your language skills to the test by visiting a local Chinese restaurant and ordering your meal in Mandarin or visiting Singapore's Chinatown Heritage Centre to learn more about the language and culture. At White Lodge our educational trips have included visits to The Chinese Gardens – or why not check out our tips on
how to celebrate Chinese New Year with your child?
The biggest hurdle when it comes to learning a new language is not enjoying it. By implementing these fun and interactive ways to learn Mandarin, you can help tackle this problem and make the learning process more child appropriate and fun.
It is also important to remember that we all have different learning styles – there is no 'one size fits all' approach. Experimenting with a range of methods is the best way to find the right one for your child.
All students at White Lodge are provided with a great foundation for the continued learning of Mandarin as a Foreign language and as a Second language.
Get in touch with us today to help your child derive the greatest value, pleasure and fulfilment from their childhood!