Home
> Blog > What are the benefits of play based learning?
What are the benefits of play based learning?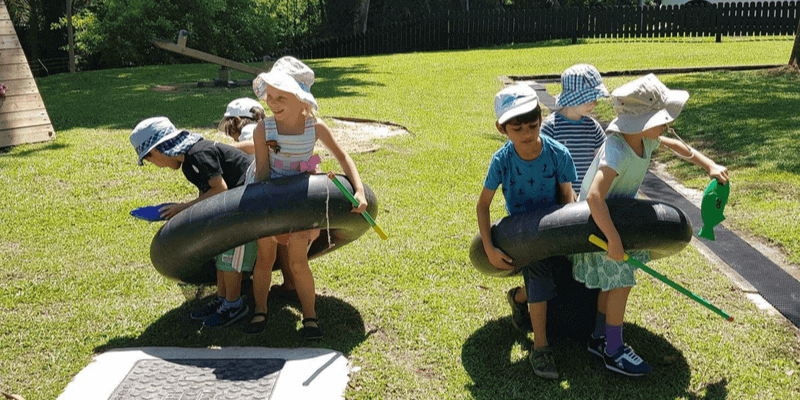 Jul 29, 2019 10:19:09 AM
When choosing a preschool for your child, there are numerous factors to consider such as facilities, safety and location. Perhaps one of the most important considerations is the school's curriculum and approach to learning. This makes finding the right balance between play and learning more important than ever. This blog highlights the aims and benefits play based learning.
WHAT IS PLAY BASED LEARNING?
In a play based learning approach, children are given the autonomy to select activities based on their interests. Teachers act as facilitators of learning and create an environment of exploration and discovery. Children still learn academic activities such as basic maths and language skills, but this in executed in a way that enables them to be creative and interact with others. Usually sensory learning is a key factor in this approach, which includes activities such as messy play, arts and music & movement.
Child development experts
have argued that play based activities involving movement is essential for children to develop foundational skills for school and life. This also stimulates them in growing physically, mentally and developing traits such as independence, self-esteem and resilience.
Purposeful play involves intentional planning and facilitation of a child's play to achieve intended learning outcomes. This can range from free play to highly structured play.
The graph below shows the transition from free play approach to a purposeful play, with a focus on curriculum. As the graph depicts, at a younger age the focus is on free play, where children lean through exploration. The objective is to promote and develop social and emotional skills. As children transition towards school, curriculum takes centre stage. Children engage in guided activities that are designed to promote learning in a fun and engaging way: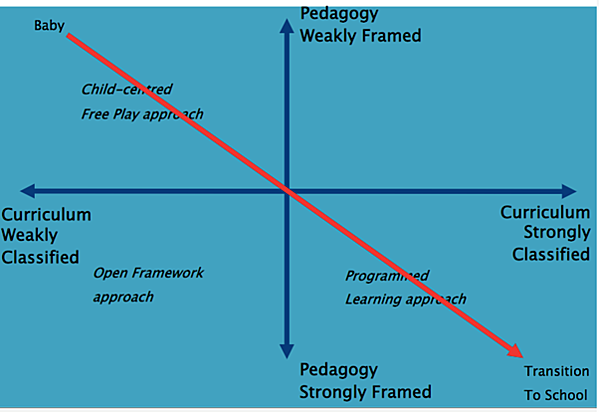 According to the Ministry of Education, this can help extend learning as it is through play that children are able to explore their surroundings.
WHY IS PLAY BASED LEARNING BENEFICIAL FOR EARLY YEARS?
The play based learning approach is particularly beneficial to children during their development stage e.g. 3 ½ to 4 ½ years. At this age, children are likely to have great play skills, are inquisitive and start to enjoy the company of the peers. They may also start asking a lot of questions which is great for the 'child-led' approach of play based learning.
This is also useful for children from the age of eighteen months to transition from life at home to a nursey setting, where they are introduced to a new routine. One of the main benefits of play based learning is enhanced social and emotional development. As most of the activities are interactive and experiential, children can gain an early understanding of communication, teamwork and sharing.
Play based learning develops problem solving, social and emotional skills. Creativity and exploration are also key as children are encouraged to discover new hobbies and interests, which helps them to engage in the flexible and high-level thinking process that is crucial for the 21
st
century learner. This also creates a more positive attitude to learning–one of our
core values
–creating a love for learning and encouraging imagination.
Psychologist Alison Gopnik
found evidence
that through playing, children are able to develop and test hypotheses to make sense of the world around them and discover unlikely probabilities leading to divergent thinking and creativity.
This study
by Dr. Sue Rogers also highlights that imitation and imagination, two key landmarks in purposeful play, can help children build motivation, self-regulation, resilience and metacognitive skills.
WHITE LODGE'S APPROACH TO PLAY BASED LEARNING
We strive to provide an education with 'something more'. To achieve this, our curriculum incorporates the children's shared interests and developmental needs. Our play based learning approach is used for all ages. For example, children from 6 months to 2 ½ years can take part in one of our 'Parent and Child' groups e.g., 'Messy Mixed Media', which introduces them to social activities such as Music and Movement and Circle Time.
We also introduced an interactive 'Bee-bot' in our older classrooms to help children learn how to code through play. This use of technology aims to help children improve their spatial visualisation skills, computational and algorithmic thinking in an engaging way.
Our Jolly Phonics Programme teaches children letter sounds in an exciting, multi-sensory way, aiming to develop their ability to read and write words. Here learning is extended through a range of activities to aid letter recognition, formation, and the identification of sounds.
"(Joey and June) had fantastic teachers, amazing art projects to share and they love learning with the programming robot. The school really puts in an effort to teach in fun and engaging ways. It offers a good mix of academics with play and art, and that's what our children need to flourish."
The Hayes Family
Check out more parent testimonials
here
.
Here at White Lodge, our interactive curriculum ensures that children learn as they play. We value
positive education
– this works alongside academic learning to get the most out of each individual and provide an exceptional foundation for learning. To find out more about what our curriculum has to offer, why not visit one of our schools?