Home
> Blog > The importance of music and movement in preschool
The importance of music and movement in preschool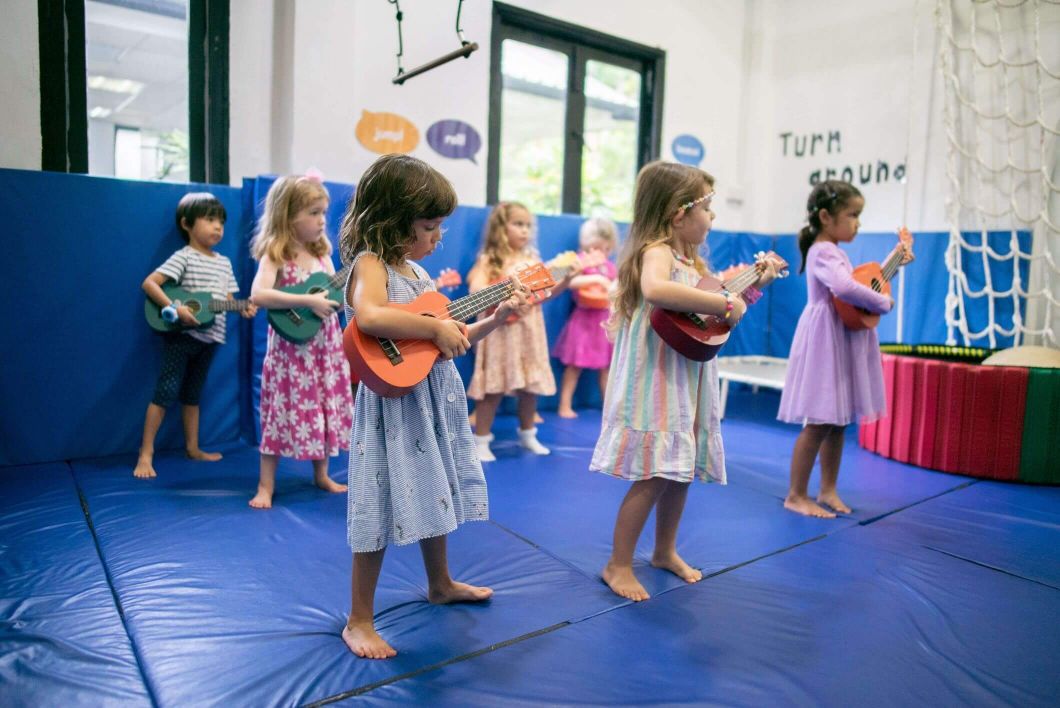 Jan 29, 2020 6:44:59 PM
The way we help children to learn has advanced dramatically. Children now have access to many more materials, and curriculums have been developed to accommodate a range of learning styles and abilities. The use of music and physical activity play an important role in the learning process. This blog will highlight the benefits of music and movement in early childhood education and explore the various ways this is integrated into our curriculum at White Lodge.
WHAT IS MUSIC AND MOVEMENT?
Within education, music and movement activities use a range of sensory modalities such as vision, hearing and movement to support learning in a fun and engaging way. Children
learn through play
, imitation and exploration - and music and movement combines these using a range of different senses.
WHY IS MUSIC AND MOVEMENT BENEFICIAL FOR YOUNG LEARNERS?
Music and movement enables children to learn new words and concepts through activities such as chanting rhymes, creating sounds using household items and singing songs to learn the alphabet. Many music and movement activities involve group learning, which provides children with the opportunity to enhance their social skills, practice taking turns and cooperation. This also helps children learn how to express emotions in different ways and communicate messages through actions.
For children who are still developing speech, communication can be carried out through movements associated with songs. For instance, a child who cannot say "frog" but can point to a picture of a frog and stick out their tongue.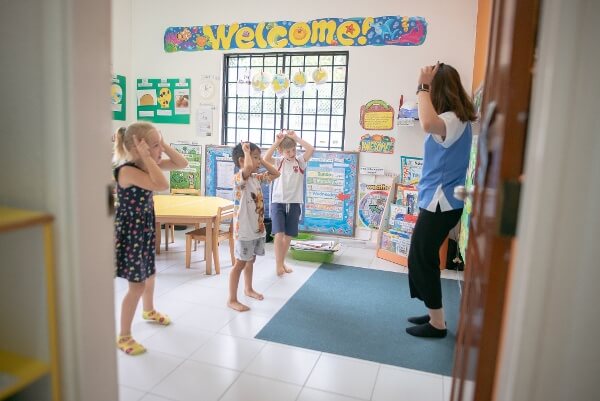 There are also health benefits of music and movement for children. Movement is essential for the development of strong hearts, muscle and bones. It also helps with balance and coordination. Additionally, music has been shown to enhance mood and mental health.
MUSIC AND MOVEMENT AT WHITE LODGE
At White Lodge, the children engage in a music and movement session each and every day. Songs are also played throughout the day, including at arrival and snack time and during transitions to facilitate the change from one activity to another. This is accompanied with movements, dances and finger play in order to encourage both large and fine motor development as well as spatial awareness. Songs, supplementary dances, art work and books are chosen for each Learning Unit specifically to reinforce learning.
For example, in the Amphibians Learning Unit, children will be able to name the object and identify the picture as a frog. Music and Movement accompanies this through songs including 'Five little speckled frogs' and 'Sammy the snake' – repetition helps children to identify sounds and patterns.
Every week, resident musician Uncle Mo comes in to play live music and sing-along with the children. He also teaches the children how to play the ukulele which encourages patience, self-expression, positive feedback and improves self-esteem.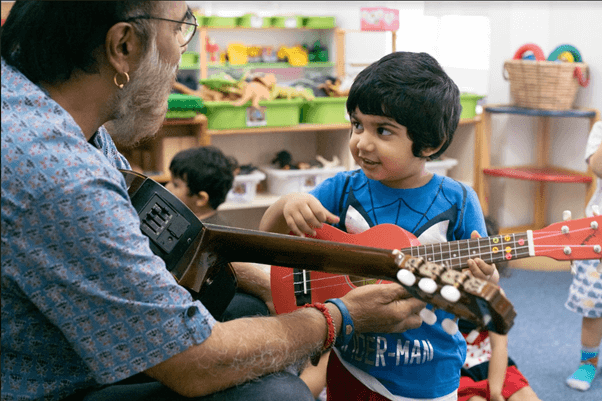 Additionally, children present and relay the information they have learnt over the term to their parents in the class presentations, Big SING and Art Exhibition. Children spend Term 4 preparing for the Annual Concert, a musical based around a new theme each year. For example, the 2019 theme was A New World. Fun and emotionally heightened situations such as these are proven to increase memory.

MUSIC AND MOVEMENT IN THE MANDARIN CURRICULUM
White Lodge teaches the MOE Mandarin curriculum which utilises the method of immersion. A key activity used is singing along to Mandarin songs. Not only does this encourage the memory of new vocabulary, it enables children to understand how to use the vocabulary in the context of a sentence. Accompanying dance moves also help the children to understand and assign meanings to new words.
Learning a new language can be difficult and using music to facilitate this can make learning a fun and engaging experience. Music is ultimately an expression of ideas. This is a great way to introduce your child to the musical styles and art of a different culture, such as learning traditional songs and dances for Chinese New Year.
Overall, music and movement activities enable children to improve self-expression, hand-eye coordination, physical activity and learn new concepts in a fun and engaging way. This can occur anywhere – not only within an educational context. Parents/careers can use music and movement at home – rather than buying musical instruments, you can simply use kitchen utensils and creativity.
Want to know more about our curriculum and learning programs? Book a tour with us today and find out how White Lodge can help your child derive the greatest value, pleasure and fulfilment from their childhood!