Home
> Blog > White Lodge Singapore is rebranding as Invictus International Preschool!
White Lodge Singapore is rebranding as Invictus International Preschool!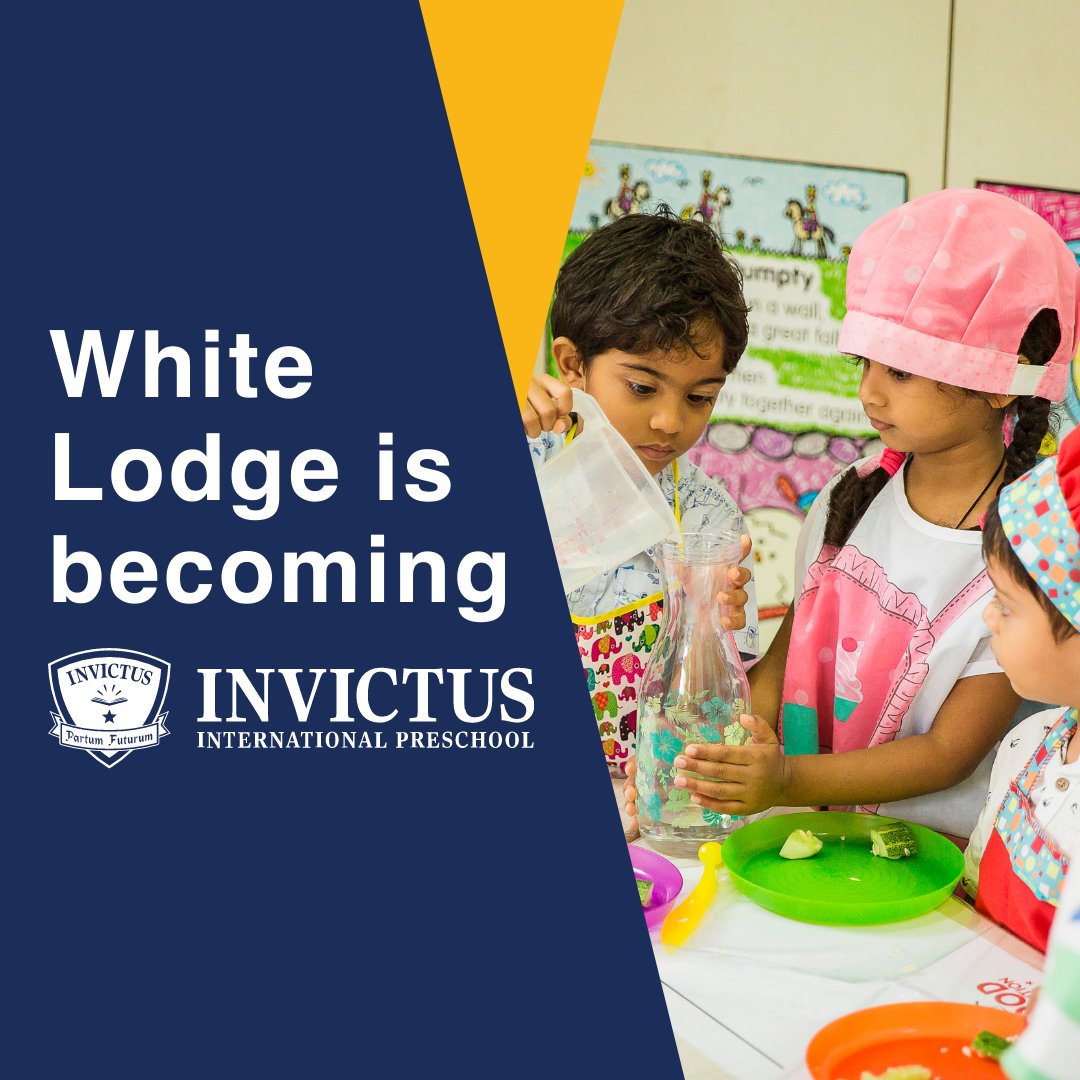 Mar 14, 2022 11:54:37 AM
For over 22 years, White Lodge International Preschool & Childcare has been a trusted school for many parents in Singapore. We strived to provide an inspirational and nurturing education with "something more", and we couldn't have been prouder to see that every child who passed through our doors has grown into confident, empowered individuals.
As we constantly evolve to ensure high quality education for pre-schoolers, we're excited to announce that moving forward, White Lodge Singapore will be rebranded into Invictus International Preschool, as part of Sing-Ed Global Schoolhouse Pte Ltd.
This rebranding marks a new beginning for White Lodge to refresh and enhance our early childhood programme after 22 years. As we build on the strong foundations of White Lodge, and leverage on the broader pool of expertise and resources from the Invictus brand, parents can expect an elevated learning experience for your child at Invictus International Preschool.
What To Expect From Invictus International Preschool
Invictus International Preschool is dedicated to providing an affordable, quality international preschool education for young children.
Children at Invictus International Preschool are given the opportunity to thrive through individualised learning in a caring and nurturing environment. Cultivating a love for learning remains to be at the heart of our school experience.
An Upgraded Curriculum
The Invictus International Preschool curriculum is based on the Early Years Foundation Stage (UK) framework. This is be infused with key aspects of the Singapore education system, including second language immersion, a firm foundation for Singapore Maths, as well as values-based learning through The Virtues Project.
Character Development Through The Virtues Project
As a globally recognised initiative, The Virtues Project is known for its excellence in inspiring the practice of virtues in everyday life. This approach has been implemented across preschools, schools, universities and community groups to support the cultivation of personal and social skills that lead to good character.
The Virtues Project serves as the foundation of Invictus International Preschool's character development approach. We adopt the Virtues Project's Five Strategies, and the children explore a virtue each week to gain a deep understanding of each virtue and how they can practice it in daily life. Through this, we seek to nurture the character and the relationships of every child to empower them as individuals and to build a positive, peaceful and co-operative learning environment for all.
Personalised Learning
Additionally, Invictus International Preschool adopts Personalised Learning – an educational approach that tailors the learning of each child according to their stage of development.
To implement this, we design an individualised education plan for each child to ensure that he/her is appropriately challenged in his/her learning. This plan will be formulated by gauging every child's stage of skill development, and by partnering closely with parents to understand their children better.
The Personalised Learning approach is also made possible with our low teacher-child ratio, such that teachers at Invictus International Preschool are able to closely observe every child's needs, interests and abilities. This empowers them to develop a learning strategy that best supports every child's development, enabling our students to learn in more effective, meaningful and engaging ways.
Extending Your Child's Educational Journey
Being affiliated to several primary institutions, Invictus International Preschool offers our preschool graduates a seamless transition into local and international schools.
For parents who prefer an international education, your child can enjoy direct admissions to The Perse School Singapore, Invictus International School Dempsey and Invictus International Centrium.
New Enrichment Programmes
Enrichment programmes at Invictus International Preschool will be facilitated by Penn Junior Academy, which works in partnership with a team of premium enrichment providers. Penn Junior Academy is dedicated to providing extensive experiences for children to develop life-long enthusiasms and passions.
From multi-sports to learning robotics, every child will have the option to participate in a variety of activities that are designed to stimulate their creativity, problem-solving and critical thinking skills.
Starting A New Chapter
As White Lodge Singapore embarks on its new journey, we would like to thank all parents for your continued support over the years. We look forward to working with you to deliver an enhanced preschool education for your child at Invictus International Preschool!