Home
> Blog > What is the difference between childcare and kindergarten?
What is the difference between childcare and kindergarten?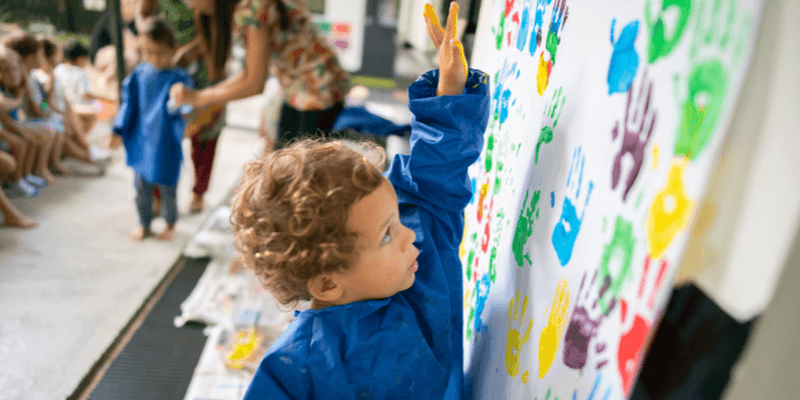 Aug 21, 2019 5:38:29 PM
Choosing an educational facility for your child can be an overwhelming process; from assessing the teaching methods to finding the right location. Deciding whether to send your child to kindergarten or childcare is one them. Before making this choice, it is important to understand their main aims and features. In this blog we break down the differences between childcare and kindergarten.
WHAT IS CHILDCARE?
According to the
Early Childhood Development Agency
(ECDA), a childcare centre provides child care services and pre-school developmental programmes for children aged between 18 months and below 7 years old. Child care programmes offer a holistic learning experience for children and work with parents as partners to optimise the child's physical, intellectual, emotional and social development. Childcare centres were previously licenced by the Ministry of Social and Family Development (MSF) but have come under the oversight of EDCA since 1st April 2013. The main aim is to provide children with a smooth transition into primary school.
WHAT IS KINDERGARTEN?
A Kindergarten is defined as an education centre with 10 or more children. It provides a structured, comprehensive and holistic preschool education programme for children from 18 months to below 7 years of age. The programme consists of at least Kindergarten 1 and Kindergarten 2 and can further include Playgroup, Pre-Nursery (or Nursery 1) and Nursery (or Nursery 2) Programmes. Kindergartens were previously registered by the Ministry of Education (MOE) but have come under the oversight of EDCA since 1st April 2013. The main aim is to prepare children with the skills needed to meet the challenges of formal schooling.
THE MAIN DIFFERENCES BETWEEN CHILDCARE AND KINDERGARTEN
1. Class schedule
Although this will ultimately depend on each individual facility, most childcare last up to a half (7am to 1pm or 1pm to 7pm) or a full day (7am to 7pm). This is ideal for parents who work full time and/or require full time care for their child. Some childcare centres may also be open for half days on Saturdays. In comparison, most kindergartens typically have programs that last for three hours, although this can also vary.
2. Holidays
Childcare centres tend to only close on Sundays, in addition to public holidays and closed days for staff training. Kindergartens on the other hand follow the same holiday dates as primary schools.
3. Meals
Childcare centres tend to offer two meals (breakfast and lunch) plus one or two snacks throughout the day. Kindergartens usually serve no meals but provide snacks between classes due to the shorter class day.
4. Government Subsidies
Children who are Singapore Citizens and enrolled in childcare licenced by EDCA are eligible for subsidies based on their parent/careers employment status and the program type they are enrolled in. These subsidies include a basic subsidy and an additional subsidy for children with a working application and gross monthly household income of $7,500 and below or Per Capita income of $1,875 and below for larger families.
The Kindergarten Fee Assistant Scheme (KiFAS) provides financial assistance for children who are Singapore Citizens, enrolled in an Anchor Operator or MOE kindergarten and have a family gross monthly Household income of $6,000 and below or Per Capital Income of $1500 and below for larger families. The amount of this subsidy ranges between $35 and $170, with more assistance provided to lower-income families.
For more information on subsidies and financial assistance click
here
.
5. Types of curriculum
Both childcare centres and kindergartens have a similar curriculum. There is a strong focus on the social and emotional development of children which typically follows the
Nurturing Early Learners framework
. This is delivered through a range of subjects including arts and crafts, literacy, music and movement, drama and sensory activities.
SO, WHICH OPTION IS BEST FOR MY CHILD?
Overall, the main difference between childcare and kindergarten is that childcare offers a full day of activities including a meals and nap time, making this ideal for parents/careers who require full time care for their child. Kindergartens on the other hand consist of a shorter day, typically lasting 3 hours with no nap or mealtime.
When deciding where to send your child, it important to remember that every school is different, and you will want to choose a learning environment that is best suited to your child's individual needs. A key tip is a
visit a childcare/kindergarten
in advance, so you can gain realistic feel of the environment.
Book a tour with us today and find out how we can help your child derive the greatest value, pleasure and fulfilment from their childhood!