Home
> Blog > What childcare subsidies are available in Singapore?
What childcare subsidies are available in Singapore?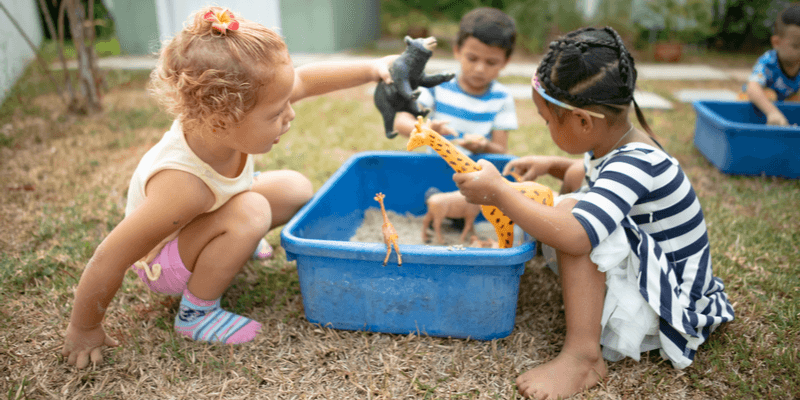 Oct 25, 2019 11:04:17 AM
While there have been many changes to early years education over the last few years, every parent recognises the impact it has on a child's life and development.
Indeed, the most critical time of brain development in a child is in the first five years; what happens during this time often lasts a lifetime.
But when it comes to enrolling a child in a preschool, one of the main obstacles is cost and it can vary from thousands to tens of thousands a year.
In Singapore, the cost of childcare and/or kindergarten ranges from hundreds of Singapore dollars a month to thousands – but is often at the higher end of the scale.
Fortunately, there are several childcare subsidies parents can take advantage of to lower the costs of childcare and/or kindergarten in Singapore.
BASIC AND ADDITIONAL CHILDCARE SUBSIDIES IN SINGAPORE
These subsidies are designed to reduce the costs of childcare and/or kindergarten in Singapore, making high-quality education affordable and accessible to all parents in the country. There are basic subsidies and additional subsidies – both of which have their criteria.
To be eligible for the basic subsidies, the parents of the child need to be Singaporean citizens and their child needs to be enrolled in an Early Childhood Development Agency (ECDA)-licenced centre.
To be eligible for additional subsidies, the mother needs to be working at least 56 hours a month, the child a Singaporean citizen and enrolled in an ECDA-licenced centre, and the family earning a total monthly gross of less than $7,500.
For more information, please use this
link
, or visit the Ministry of Social and Family Development's website
here
.
KIDSTART PILOT PROGRAMME
Need to reduce the cost of childcare in Singapore further? From January 2020, additional subsidies for preschools will be rolled out across Singapore.
The pilot programme, KidStart, is for low-income households and vulnerable children. It will be available for disadvantaged children up to the age of 6, making preschools more affordable.
He also announced that the gross monthly household income ceiling will be raised to $12,000, up from $7,500 for the additional subsidy and $6,000 for the Kindergarten Fee Assistance Scheme (KiFAS). This will extend the means-tested subsidies to 30,000 more households – over 60% of households in Singapore.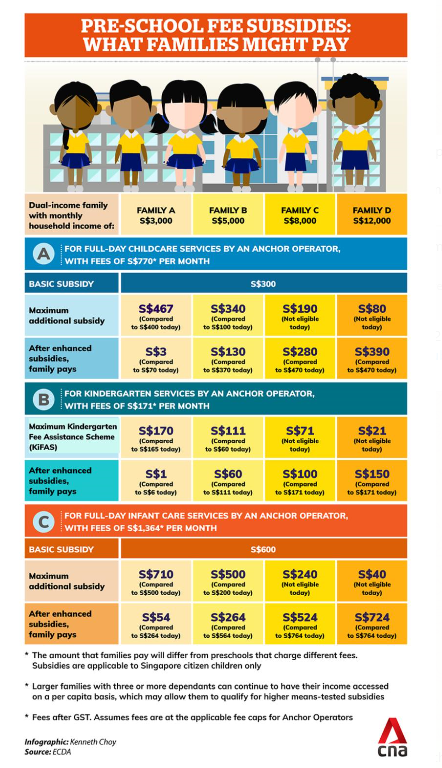 According to the ECDA, 330 childcare centres will be increasing their full-day fees for Singapore citizens from 2020 with the median increase being within 5% of fees.
CHILDCARE PROGRAMMES AT INVICTUS INTERNATIONAL PRESCHOOL
At Invictus International Preschool, we support the Singaporean Government's initiative to provide affordable preschool education. We offer 5 full-day childcare programmes at our Bukit Timah and Grandeur Park Centres.
View all our centres here.
Classes run from 7am to 7pm Monday to Friday and include meals and afternoon activities. You can book a tour of one of the above schools by using the link below.
WHAT'S EARLY YEARS EDUCATION LIKE AT WHITE LODGE?
From a schooling perspective, providing a welcoming, safe and open environment contributes to a young child's ability to be creative, learn new skills and be confident. Likewise, a well-written curriculum, one which includes daily lesson plans, professional development sessions and one-to-one time with children, supports both teachers and children.
At White Lodge, these principles are ingrained into our methodologies and learning centres. We ensure that every child is welcomed into emotionally and socially safe environments, where they can learn at a pace that suits them. Teachers are also supported; we provide a structured curriculum and help teachers to be compassionate – not just passionate – so they understand all child behaviours have meaning and can impact long-term development.
To maintain our high standards, we spend a considerable amount of time reviewing and monitoring the care and education at our learning centres. Furthermore, we have developed a unique way to teach children, support families and develop teachers, so that everyone achieves success.
Finally, we celebrate our cultural diversity and are global citizens who place great importance on sustainability. We consider what's happening in the world and the environment and appeal not just to the minds of children, but to their hearts and souls, too.
Not only do we try our best to keep the cost of childcare/kindergarten low, our education is wholesome and enriching – and this is what differentiates us from others.
Want to know more about what Invictus International Preschools offer?
Get in touch with us today
and find out how we can provide your child with high quality education and individualised learning.