Home
> Blog > Checklist: Three things to consider when choosing a preschool
Checklist: Three things to consider when choosing a preschool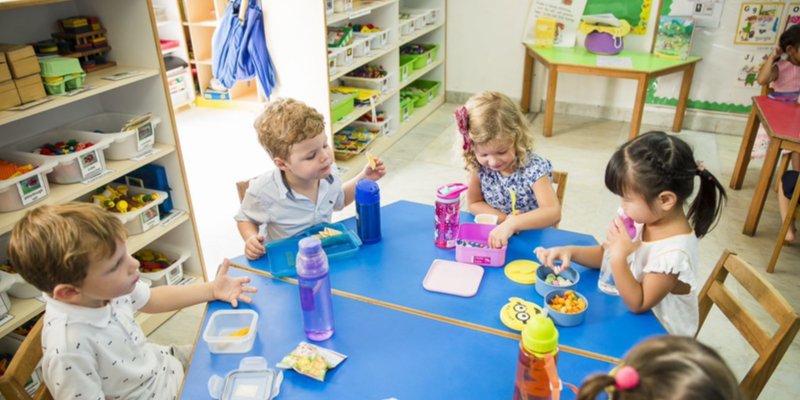 Mar 22, 2019 12:31:06 PM
Sending your child to preschool is no small matter. Many parents feel anxious about leaving their child in an unfamiliar environment and with teachers they have only just met.
Every parent or caregiver is different. This means that the factors that play a part in choosing a preschool in Singapore will vary greatly depending on your priorities, the school itself or the specific needs of your family and child.
Below we have compiled a checklist of what you should consider when applying to or choosing a preschool in Singapore. Remember you might not always find a preschool that meets every one of your requirements, so consider carefully which ones are deal breakers and start from there.
Greeting
A lot can be learnt about a setting by the way staff approach introductory visits with you and your child. This is your first interaction with the preschool - first impressions always go a long way! You want to get rid of any worries and ensure that your child settles in and transitions well with minimal disruption. Some things to consider are:
Do you like the way your child was greeted?
What is the preschool's open-door policy?
Is there a parent bulletin board?
Licensing
In order to be given a license,
schools must meet the basic standards of quality and safety
set by the appropriate governing body i.e. state, county, or city government. When researching potential preschools, make sure you verify the school's license. You will want to ensure that it is valid and current by asking the following:
Is the kindergarten registered with the local authorities?
Are the teachers certified or have diplomas in early childhood education?
Do the staff have their own first-aid certifications up-to-date?
If the school does not meet these standards, you will need to reconsider enrolling your child there.
Health & Safety
Leaving your child's responsibility in the hands of others can be daunting. If you are overly concerned about the safety of your child, you should ensure that you ask the preschool's administration as many questions as possible to put your mind at ease. If you don't know where to begin, look at some of the questions below:
Is the food prepared on site?
Can I send lunch from home?
Are there any first-aid kits?
Are safety procedures developed and practised?
Will my child be supervised at all times?
What is your policy for sick children?
What is your policy on colds, fevers, HFMD and chicken pox?
What is the nap situation? What happens if my child does not want to nap?
You can also find a more detailed breakdown of health and safety practices in Singapore here.
Interested in finding out more about the type of questions you should be asking before making your decision? Download our checklist guide to ensure the preschool you choose ticks all your requirements by
clicking here
.